Rudraksha is a stone of a berry-like fruit that is popular among practitioners of Hinduism, Buddhism, and their branch of religion. This stone seed is popularly used in these circles during meditation and spiritual practices. Furthermore, Rudraksha bead and Rudraksha Mala are not limited to one type of seed, as there are 21 different types of Rudraksha based on their faces.
Although Rudraksha is a popular material used in a wide range of beaded mala accessories, there are many questions regarding this religious, spiritual, and meditative among general people. This seed is considered mysterious and has mythical significance after all. So, to fulfill these queries, here we have compiled a wide range of these questions and queries and given them a quick glance.
All about Rudraksha Mala You Want to Know: Some Frequently Asked Questions about Rudraksha (FAQ)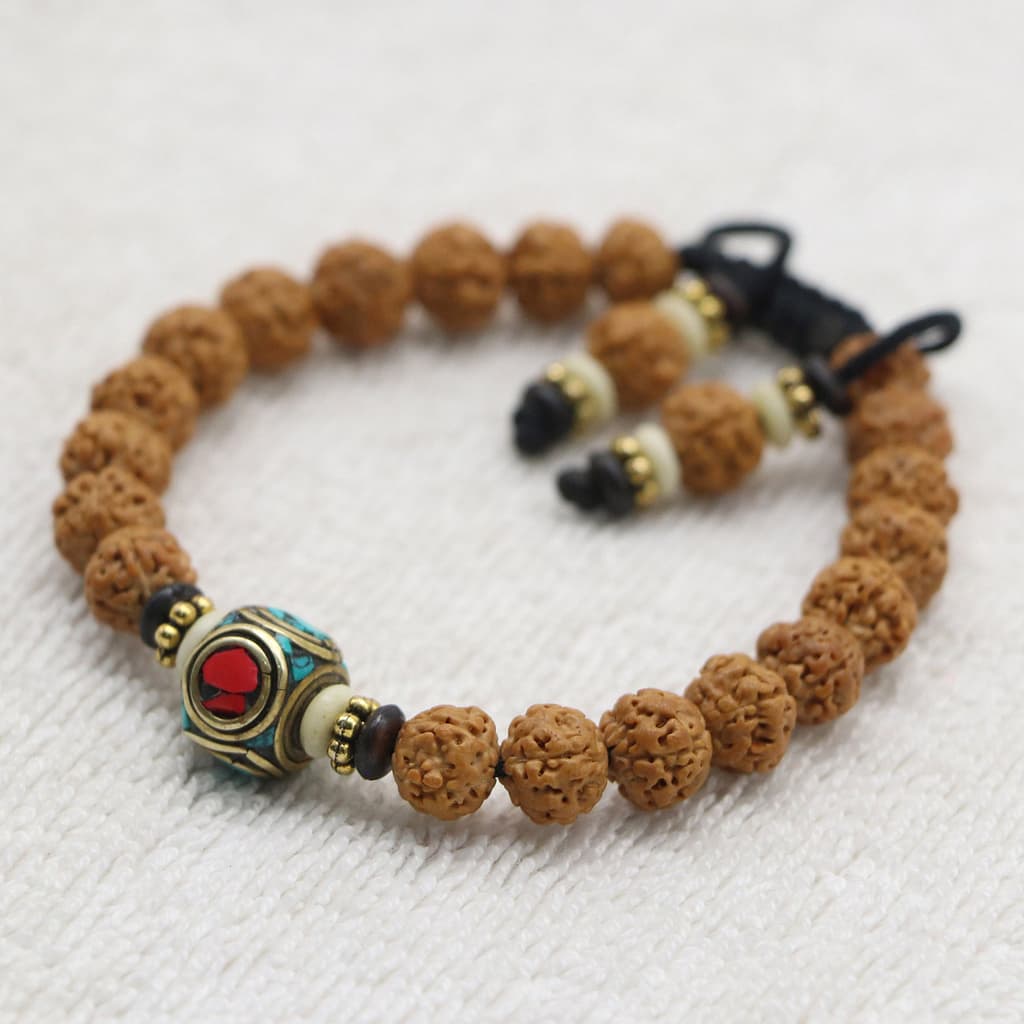 As some of you may have guessed from our previous sentence, this is a compilation of some of the most asked questions, commonly known as FAQ and their brief answers. That said, although the answers here will be brief for the sake of convenience, we have covered the answers in greater detail, which we will be linking with the answer. So if you want to know further about the linked topics, feel free to check them out.
That said, without any further do, let's get started with the questions!
What is Rudraksha Seed?
Rudraksha, also known as Rudra-aksha, is a seed of a tree that is botanically known as Elaeocarpus Ganitrus. This is a rare tree that is only found in specific locations in South East Asia.
What are rudraksha seed beads?
Rudraksha Seed Beads are processed seeds from a tree grown in South East Asia, which is botanically known as Elaeocarpus Ganitrus. The seeds from this tree are dried and then cleansed before being transformed into beads. The processed beads are then used in a wide range of beaded accessories such as Japa Mala Necklace and Wrist Mala Bracelets.
What are the benefits of wearing rudraksha seed mala?
Some of the primary benefits of rudraksha seed mala are:
Aids in focus
Enhances clarity and peace of mind
Improves memory
Aids in dealing with stress and memory
Enhances Stamina
Strengthens heart
Can rudraksha beads get wet?
Similar to any other seeds, Rudraksha beads can get wet. However, rudraksha beads are recommended to be worn on dry skin and removed during the night.
Do rudraksha beads really work?
Yes, they do. That said, you should not expect a miracle from the Rudraksha seed, as these seeds work by calming your mind and by stabilizing your senses, body, and emotions. So, by wearing Rudraksha beads, you will find get a better mental and emotional state to improve.
How to take care of rudraksha beads?
To take care of Rudraksha Beads, you need to immerse them in ghee for 24 hours and soak them in milk for another 24 hours before wiping them with a clean cloth. You can use this same process if you are wondering "How to clean Rudraksha Mala" as well.
What are rudraksha beads made from?
Rudraksha beads are made from Seeds of a tree exclusive to South East Asia known as Elaeocarpus Ganitrus.
Why is Rudraksha sacred?
As per the Shiva Purana, the Rudraksha tree, Elaeocarpus Ganitrus, was formed when the teardrop of lord Shiva fell. As lord Shiva is one of the Holy Trinity of Hinduism, the tears of lord Shiva or Aksha of Rudra, i.e. Rudraksha, are considered sacred.
How to tell if Rudraksha is real?
Source: Amazon
You can tell whether a Rudraksha is real by observing the faces along with the color. If the color of the seed and faces are uniform, it is most likely fake. You can also take a quick read our work on "How to find genuine Rudraksha Mala beads?" for further details.
What is a rudraksha mala?
Rudraksha Mala is a beaded necklace made from the Rudraksha seed beads are is a popular accessory used in meditation along with religious and spiritual activities among the practitioners of Hinduism, Buddhism and their related religions.
How to use rudraksha beads?
You can use Rudraksha beads as an accessory in Japa Mala Meditation, but while doing this, you will need to be careful about keeping the beads in touch with each other.
How rudraksha mala is made/ How to make rudraksha mala?
Rudraksha Mala is made by drying the seeds of the Rudraksha tree, botanically known as Elaeocarpus Ganitrus. After the seeds are dried, they are clarified, energized, and processed into beads by making a hole between the faces of the rudraksha seed.
Which rudraksha mala is best to wear?
21 Mukhi Rudraksha and 1 Mukhi Rudraksha are considered best for general use. That said, depending on your circumstances, the "best" rudraksha mala for you will vary.
Where to buy original rudraksha mala?
You can buy original Rudraksha Mala near PashuptiNath, and BauddhaNath in Nepal and other major hubs for Hinduism all over Asia; alternatively, you can also buy the best Rudraksha from Nirvana Mala, one of the best wholesales and distributors of beaded mala in Nepal.
Best quality rudraksha mala?
The best quality rudraksha mala are the genuine ones. If you are curious about determining whether a rudraksha mala is genuine, you can follow the link we mentioned above.
Which Rudraksha Mala should I wear/what Rudraksha is best for me?
The honest answer to this question is "it depends". There are a lot of factors that determine the type of Rudraksha mala that you should wear, such as your need along with compatibility with the specific type of Rudraksha. You can wear 21 Mukhi, 1 Mukhi and 5 Mukhi for general purposes.
Which size rudraksha mala is best to wear?
It depends on your age and specific circumstances, but it is recommended that adults should wear the rudraksha mala with a minimum size of 84 beads.
How many rudraksha mala to wear in neck?
You should have only one Rudraksha in your neck with a total bead number of 108. If you want to be strict, you should wear the Rudraksha of 50 beads. Read our quick guide on Rudrakahs Bead mala for more details on this question.
How many beads in rudraksha mala/ how many rudrakshas in a mala?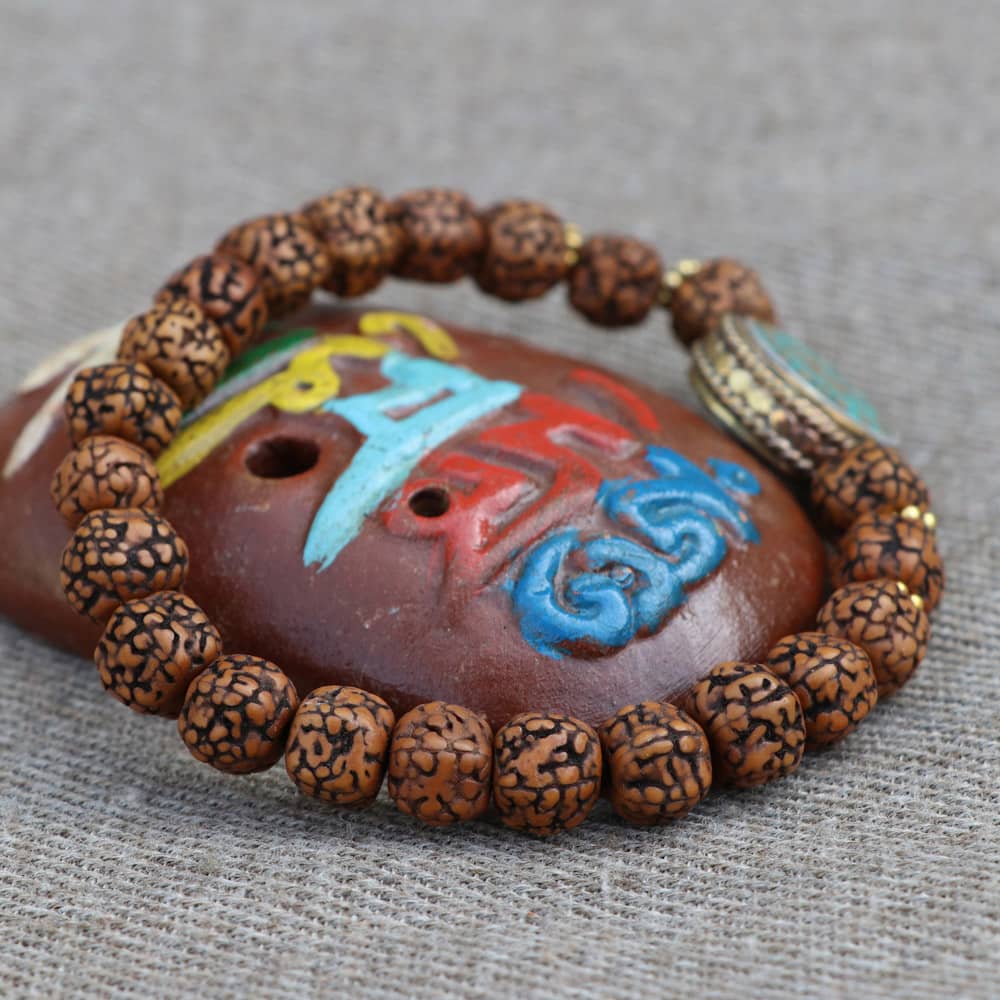 Generally speaking, there are 108 beads on Rudraksha Mala, but as per the old tradition, the total number of beads on Rudraksha mala should be 26 beads for the mala worn on the head, 50 beads for the chest, 16 beads for arms and 12 beads for the wrist.
How many moti in rudraksha mala?
The answer to this question will vary depending on how you define moti. If the definition of Moti is taken to mean Pearl, then you do not need to have any moti in Rudraksha mala. However, if moti is meant as beads, then the generally accepted optimum number is 108.
How to count rudraksha mala?
While counting the rudraksha mala, you should keep the beads in the middle of your right hand while counting the beads with your thumb. Make sure you do not let your index finger touch the rudraksha hands. The process is similar to how we use Japa Mala Meditation.
How much does a rudraksha cost?
The cost of rudraksha mala varies widely from a low price of $2.00 to over $17.00.
Conclusion
As you can expect, the questions we mentioned here are simply a portion of Frequently asked questions out there. People ask many other questions about Rudraksha beads and Rudraksha beaded mala. That said, the question we mentioned here is among the most frequent. Through these questions, we hope that you got a brief answer to some of the queries you have in your mind.
In the end, we hope you found this informative. And as always, thank you for reading till the end.