Meditation is one of the best activities that you can do for better mental health. Regardless of what is disturbing you, meditating is an effective way to slow down, take a step back, and take a breather. This is because the key aspect of meditation is to slow down and either relax or go deep into everything comprehensively. The best part about meditation is that you can either do this free-handedly or do it with the aid of accessories- and one of the most popular forms of Meditation is Japa Mala Meditation. 
What is Japa Mala Meditation?
Japa Mala Mantra Meditation is one of the most common meditations that you can perform with the aid of 108 beaded Mala Necklaces. In this meditation, you find a comfortable position too, grab a beaded mala, breathe deeply and recite your preferred mantra. 
The inclusion of mantra and beaded mala in this form of meditation should not be a surprise since the name of this meditation technique translates to Recite (Japa) Beaded Necklace (Mala) Meditation. 
How do you do Japa Mala Meditation?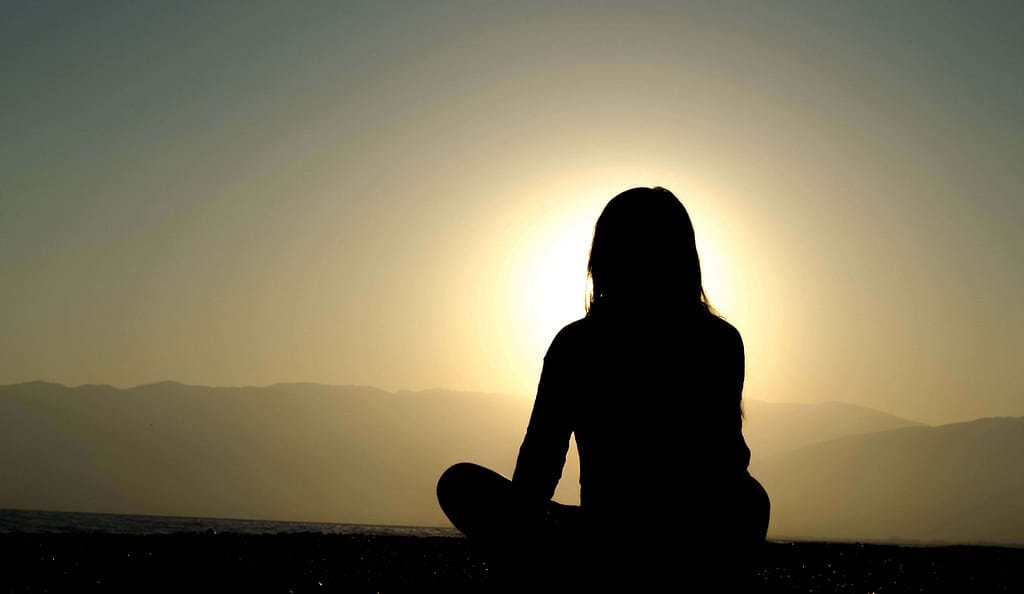 The process of doing this meditation is quite simple. All you need to do is find a comfortable position to sit in, grab the beads, take a long breather while counting the beads and recite a mantra with each passing of the bead.
If you want to know more about the actual process, we have covered this in detail in our article "A Quick Guide to Beaded Mala". So be sure to check it out! 
However before you begin Japa Mala Meditation, it would be helpful if you remember some quotes.
Quotes on Japa Mala Meditation
Meditation, although great and has a lot of positive benefits for us, is also not as easy as it seems. Regardless of if you are practicing mindfulness, guided meditation, or Japa Mala meditation, getting into that initial zone of being detected is hard. However, even if you have entered into a detached state of being, you can still find it hard to progress.
Therefore, before you begin your meditation, it would be helpful for you if you remember and comprehend the following zen meditation quotes!
1) What is Mantra? – Yogi Bhajan
This quote by the well-known Yogi Bhajan gives you a quick but comprehensive introduction to Mantra. For many of us, Mantra is just some words scribbled by ancients. However, it is more than just words. They are the means through which you connect the three aspects of life i.e, Mind, Body, and Soul.
Understanding the meaning and essence behind each word in a mantra will aid you greatly in your medication. This is because once you understand the essence of a mantra, your mind and body will both synchronize harmonically with each chant, therefore providing you with a better awareness of self.
This quote about mediating explores the depth of the mantra and acts as a guide on what to expect in your meditation.
2) Mantra is the gateway to the world of creation – Thomas Ashley-Farrand
Thomas Ashley Ferrand was one of the world's biggest authorities in applying Sanskrit Mantras to everyday life. As per Mr. Ashley, words have a lot of powers – including the powers of creation, and mantras are one of the best ways to understand this power through chanting and feeling the vibrations as well as the power within.
This essentially boils down to – if you understand what the words meant and understand the meaning behind them, you can get closer to attaining true inner peace and harness the power of speech, and creation.
3) Know the basics until it becomes a sub-conscious action – Swami Kriyananda
According to this quote about Mantra Meditation, you first need to chant the mantra without having any ulterior motives purely for understanding the basics behind chanting the mantra. By doing this, you will achieve a purity of heart as while chanting the mantra, you will have nothing but the mantra. Once this becomes an automated action, only then you can start diving deeper into the mysteries of the metaphysical world and your mind.
This is true for everything, not just meditation as you need to put effort into doing something repeatedly until it becomes a subconscious habit.
4) Mantras are not magical – but their effects can be – Thomas Ashley Farrand
This quote by Thomas Ashley talks about the practical aspect of using the mantras. For him, Mantras are just forms of sounds and words with deep meanings. However, he also gestures that while mantras are not magical, their effects do seem magical.
By the time you learn the correct way to recite a mantra and understand the symbolism as well as the meaning behind it, you would have exercised both your physical body and mind in a way that is beneficial to you in a realistic way – they are after all exercises to train your body and mind to relax.
Naturally, these are not all the quotes on Mantra meditation. However, from reading these quotes about meditation and the reasonings behind them, you should have a general gist of how to use a mantra in your meditation and what to expect from them.
This quote by Mr. Ashley-Farrand can also be considered an inspiration meditation quote.
Some Popular Mantras for Meditation
By this point, you should be well prepared to learn about some of the mantras and the meaning behind them. Along with the introduction to Japa Mala Meditation, along with the Mantra/ meditation quotes, you should know a few mantras to do the Japa Mala Meditation.
Some of the sacred Mantra that you can apply with the concept of mentioned meditation quotes are as follows
Om
Also spelled as Aum, this is one of the most popular and powerful of the mantras. Om is often called the hymn of the universe as many Yogis believe that this was the sound produced when everything began.
When you chant this mantra properly, you should start with your stomach and end at the tip of your lips. As you chant this mantra, you can get a complete vibrational experience, which is known to be good for better health for both mind and body.
So'Hum
Literally translating to "I am That" this mantra is among those that are perfect for beginners. The meaning behind this mantra is simple – I am everything and I am nothing.
SO or Sa means He or that and Ham, spoken as Aham, means I am. Along with this, if you speak this mantra out a lot, it should not take long for you to find out that this mantra has "Aum" embedded in it.
With a deep meaning and Om within, So'Ham is one of the best mantras to chant while meditating for both spiritual benefits from comprehending the meaning behind the mantra and physical benefit from the vibrations.
Om Shanti Shanti Shanti
Om Shanti Shanti Shanti is a rather simple mantra with simple meanings. If you know Hindi, Nepali, Sanskrit, or any other related languages, then you already know what this mantra means.
Shanti simply means peace and the in this mantra, you tribute it to three aspects of our existence i.e., Mind-body, and soul.
By chanting this mantra, you are essentially telling all three aspects of your existence that "there is peace within". Along with the deep comprehensive meaning, there are also the vibrations from Aum.
In the end
Meditation is one of the best methods to relax your mind, along with your body. This is because while meditating, you are entering into a realm where there is both calmness and awareness at the same time. Because of this, it is the best state for introspecting and actualization. Along with this, meditation is the best method to calm down as well. So follow the above mala meditation quotes and meditation mantra which will definitely help you in healing.
That said if you are looking for a Japa meditation mala necklace or Japa mala beads to make your own Japa Mala, feel free to let us know. We, Nirvana Mala Shop are among the best wholesalers and distributors of religious and spiritual accessories in Nepal after. 
We hope you found this informative and useful. And as always, thank you for reading till the end.
Some FAQ's
Q: How do you chant a Japa mala?
A: The first step is to get into a comfortable position. After that, grab the mala with your right hand and count the beads at the rate of one bead per recitation of the mantra.
Q: Which mantra is powerful for meditation?
A: Om (Aum) is considered to be one of the most powerful Mantras for Meditation. Along with this, there is also Om Namah Shivaya, Om Shanti Shanti Shanti, and So'Ham as well.
Q: Is mantra Japa meditation?
A: Yes, Mantra Japa is a Meditation.